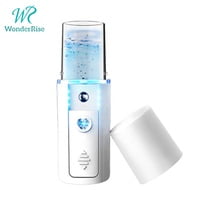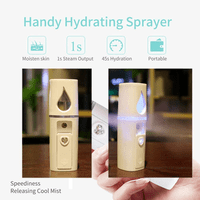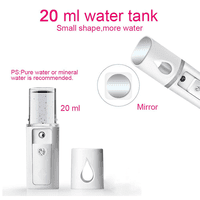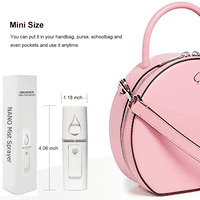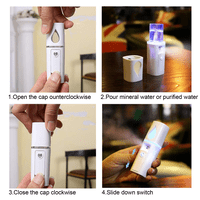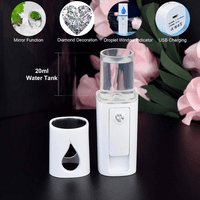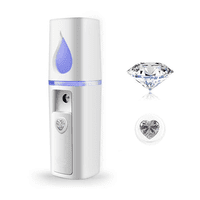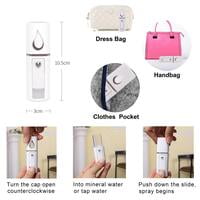 Nano Sprayer (Facial Mist/Alcohol Sanitizer)
Slide rail type switch, spray immediately when slide open.



Open water addition design, 20ml water tank, to meet the day's hydration needs.

Mirror design on the top in case of unexpected needs.
Ultra-high-speed vibration technology and large spray volume, it can quickly replenish moisture. It can be used in all parts of the body: face, body, hair, eyelashes etc,Suitable for all skin types.
Handy and fashionable cool mist facial sprayer, easy to carry, convenient for you to moisturize skin anywhere anytime, Enjoy facial sauna no matter where you are, at office, on flights, outdoor, at dressing room and so on.
Pocket size,which fits for your handbag or pocket.Premium gift for Premium gift for Valentine's Day,Birthday,Mother's Day.
With a mirror, so that you can observe your appearance anywhere at any time.
Tips-This Facial Mister come with a USB charger and charges quickly for faster use. You can add Milk, Water, Rose Water, Toner in it, please don't use it with thick texture toner and remember to empty the water before charge.
Unscrew the cap counterclockwise




Put water/mineral water or alcohol

Tighten the cover clockwise



Before use, shake Nano Facial Mister to make spray more smooth.



Automatically shut off after 60 seconds, Just for the skin water once.

The best spray distance is about 15CM. It is recommended to use mineral water to avoid affecting the service life of the machine. It is not recommended to use viscous water.